Do you need some kitchen blind ideas? Looking for what's available for kitchen blinds in New Zealand?  Well, here at mr blinds we are happy to assist you with our range of made to measure modern kitchen blinds.
choosing the best blinds for kitchens
The kitchen is quite often the household hub of activity, and with modern open plan living,  has also become a social place to be as well.  So kitchen blinds should not only be functional but should also be aesthetic and complement your living area decor.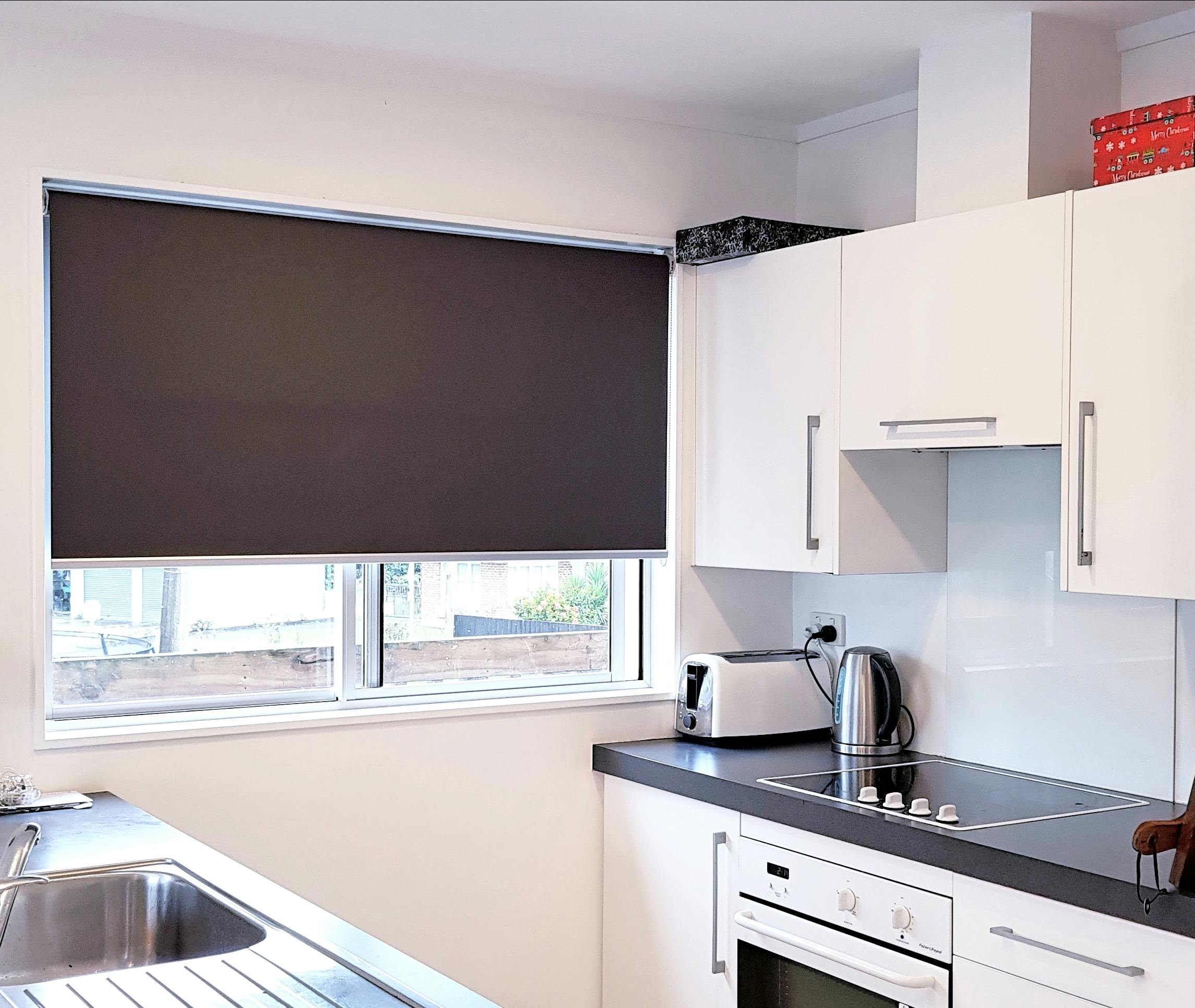 Blinds are without a doubt the kitchen window dressing of choice. Unlike curtains, blinds are more practical, easy to clean don't absorb cooking odours and let in lots of light when needed. What's more, they're affordable and can be tucked up completely out of the way when required.
While there are a few options to choose from, it's not all about looks when you're picking out blinds for such a hard-working space as a kitchen: you have to consider how the fabric/wood/faux wood might cope with grease and oil splatters, moisture and heat.
Luckily, fabric and faw wood technology has come on leaps and bounds, with fire retardents, moisture-resistant coatings, and insulating properties now available.
Ready-to-fit blinds will obviously be cheaper, but inevitably never really fit properly, so made-to-measure kitchen blinds are usually your only option.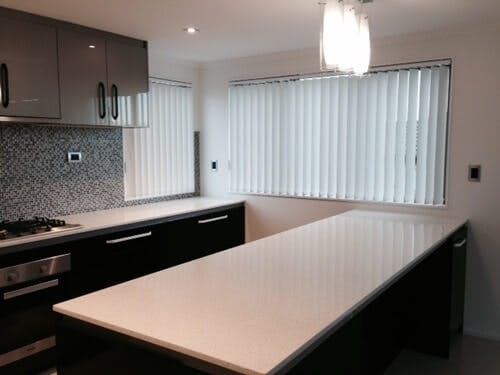 kitchen roller blinds
Roller blinds are smart and simple: they cover kitchen windows with a single piece of fabric that can be rolled up on a sunny day, or rolled down to provide shade and privacy. If you use your window sill for storage, you can adjust your blind to create the space you need.
When choosing a roller blind fabric you can consider sunscreen, light filtering, blackout or thermal fabrics depending on what best suits your orientation to the sun, privacy and heating requirements. In addition to this, you can choose to use a dual roller blind combining two different types of roller blind fabric to make your blind super functional.
fabric blind, avoid cotton, linen and silk, as they can rot, fade or shrink in moist environments. Instead, choose a moisture-resistant, waterproof material as it won't be affected by mould or gradual decolouration. It'll also be easy to wipe clean.
If your kitchen basks in lots of bright natural light, then consider a roller blind with blackout lining.  This is also a great choice for a open-plan kitchen in which you need to darken the room for TV viewing.
While a manual roller blind will generally do, if you wish to eliminate chains, or if you have multiple windows, it might be worth investing in a motorised option that you can raise or lower at the touch of a button, or if your hands a full with dinner…voice activation.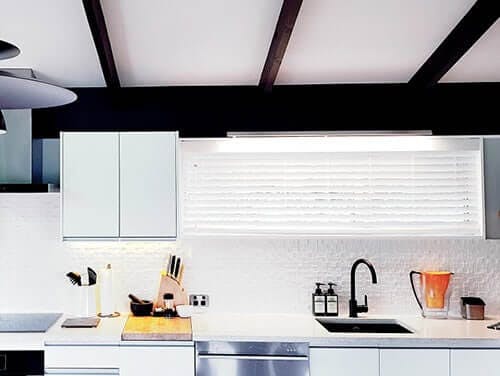 kitchen vertical blinds
Vertical blinds are a great choice for any kitchen, especially where a greater degree of versatility and practicality is required. Made to measure so they fit your window perfectly, these blinds give you total control over the light entering your home. Simply twisting the vanes will allow the light to flood in, or be blocked completely. Vertical blinds are durable, easy to clean and can be stacked to the side of your choosing.
kitchen venetian blinds
Venetian blinds, both practical and stylish, are usually made from aluminium, wood or faux/synthetic wood which makes them easy to wipe down so they won't harbour germs, dirt or the usual kitchen smells.
If you are considering the wood look, it's best to go with faux/synthetic wood especially if your window is above the kitchen sink, because over time, damp and humid conditions can cause damage to real wood, which is generally less hardwearing. What's more, faux wood blinds tend to be more affordable and can be mixed with our real wood blinds in other less humid parts of the house.
The adjustable slats of kitchen venetian blinds provide lots of options for privacy and light control, and when not in use, you can pull them up almost out of sight, which is great if you want to store a box of herbs on the windowsill or enjoy your garden views.