If you enjoy working on your job or your hobbies from the comfort of your own home, then you are someone who could genuinely benefit from setting up a lovely home office. When you have a space of your own where you can comfortably relax and work on the essential things, you can find yourself being more productive and positive. Additionally, if you install helpful fixtures like well-designed blinds into your home office, you can make your space more comfortable and aesthetically pleasing. 
why should I choose blinds
You might be wondering now, 'when setting up my office, why should I choose blinds over other kinds of fixtures?' If you're still on the fence about whether or not to put some new blinds onto your windows, you should know that blinds come with heaps of excellent benefits. - 5 Advantages Of Blinds
Some benefits that can specifically benefit home offices are:
Reduced Glare. If you have ever tried to work on a computer while the sun was shining on your screen, then you know just how annoying screen glare can be. This annoying glare can make you frustrated, agitated and overall much less productive. 
If you want to reduce that irritating glare, then all you need to do is install some great blinds onto your windows. Then, with control over the sunlight in your room, you can close the blinds when the sun is too harsh and open them again when the light has gone away.
More Privacy. Even if you're an extrovert who enjoys the company of others, sometimes it's nice to have time to yourself to focus on work and other things that are important to you. With an excellent set of blinds on your windows, you can make sure that your privacy is at a maximum. Then, with fewer distractions to bother you, you can focus on getting your work done. 
A Great Level Of Control Over Your Windows. In your office, you should have maximum control over how your room looks and acts - and, by installing easy-to-use and practical blinds from a great seller, you can have an extraordinary level of control over your windows and the light that enters your room. You will be able to retain your view of the outside when you want and close off your blinds whenever you wish. 
Additionally, if you really want to have maximum control from wherever you are in your office, you can get yourself some incredible motorised roller blinds. These fantastic blinds work just like regular ones, but you can control them with a handy remote. So, you'll be able to adjust your blinds without having to physically get up from your computer.
They Make Your Office Look Better. Of course, the equipment and supplies in your home office aren't the only important things there, either - your aesthetics and decorations can also play a massive part in how much you like your room. When you work in a place full of fixtures that you enjoy looking at, you'll have a more positive mindset and get more work done. 
Blinds are a highly versatile structure because they come in all sorts of different designs and materials. From cloth roller blinds to classic wooden Venetian blinds, whatever your style is, you are sure to find some blinds that fit you perfectly.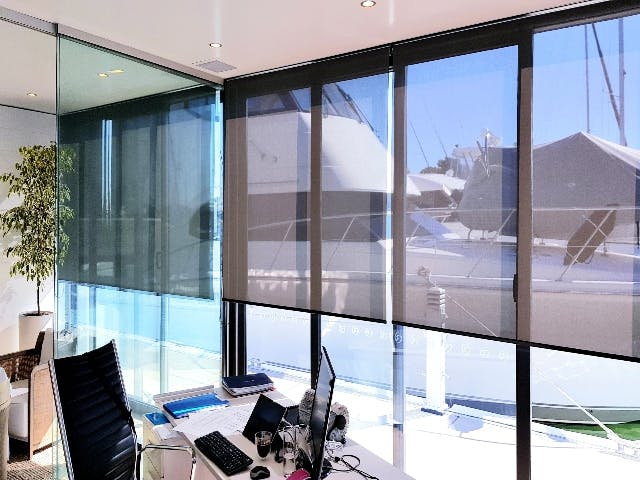 where can I find beautiful and practical blinds in New Zealand?
Are you setting up a wonderful home office? For some of the best blinds in New Zealand, look no further than our outstanding store at mr blinds. We proudly offer New Zealanders a wide array of different blinds, from modern roller blinds to classically beautiful wooden venetian blinds.
Have any questions about our blinds or our services? If so, please reach out to our helpful team at 09 274 9313 or sales@mrblinds for more information! 
Turn your home office into your personal oasis with beautiful blinds from us at mr blinds!