Roman blinds are in essence a curtain that is stacked at the top of the window rather than being pulled to the side. So while this offers infinite fabric options we believe that roller blinds win every time.
Windows can present different challenges from too much light, too little light, not enough privacy, to being in areas that are really space restricted. All of these issues can be easily resolved with the versatility that roller blinds offer.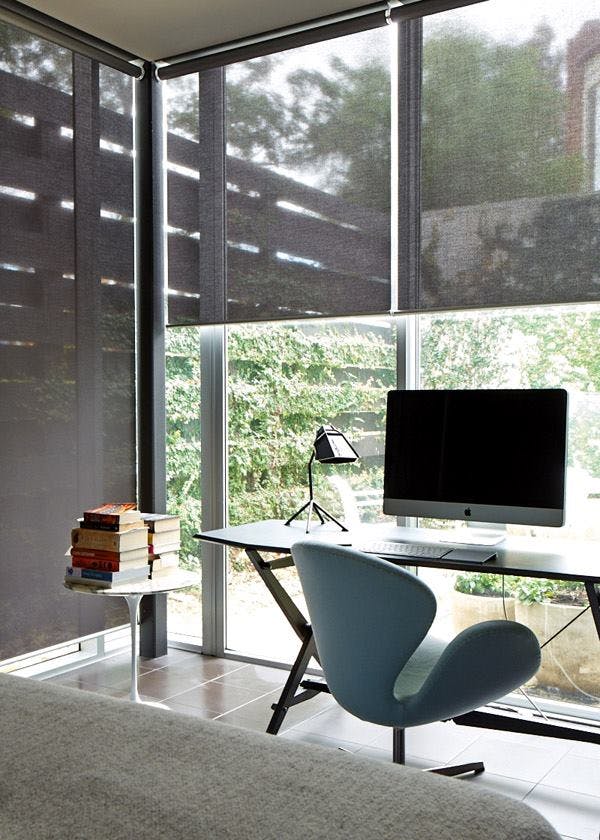 maximise daylight with roller blinds
Roller blinds roll up neatly into a small tight roll of fabric and in so doing don't cover the window as much as roman blinds. If you open a roman blind, it will maintain a drop of approximately 20cm covering your window. This not only blocks some of your view but also some precious daylight.
minimise daylight with roller blinds
On the opposite end of the spectrum, some windows allow too much direct sunlight into a room and cause issue with glare and or furniture damage. Sunscreen roller blinds are the perfect solution as they diffuse direct sunlight reducing glare on computers, TV's etc while still allowing a degree of daylight to enter a room. Sunscreen roller blinds also allow you to see the view outside so while the light is controlled you don't feel like you a shut in a darkened room. Roman Blinds however, do not offer the same degree of flexibility they are either open allowing all sun rays to stream in, or closed completely blocking out any light.
blinds maintain privacy
With houses being squeezed onto smaller sites these days, privacy can become an issue. Sunscreen roller blinds provide daytime privacy while still allowing you to see out and enjoy your garden or view. These sunscreen roller blinds can be combined into a dual roller blind with a blackout fabric for the evening, thus achieving the best of both worlds. Again roman blinds fall short unless you like living in the dark and having your blinds down all day to keep nosy neighbours at bay.
roller blinds are more cost-effective than roman blinds
Because roman blinds are essentially a curtain they are very detail orientated and therefore labour intensive. Roman blinds have approximately 14 different components, require rods for stiffening and are therefore more expensive to make. Roller blinds, on the other hand are much more economical at a fraction of the cost. Materials are bought in bulk and manufacturing time is much shorter. These savings can then be passed onto you.
roller blinds are easier to clean than roman blinds
Roller blinds are comparatively easier to clean than material roman blinds. Roman blinds also require dry cleaning so as not to cause any stain or shrinkage of the material. Our window blinds are made from mould resistant fabrics and can be easily wiped down with damp cloth.
insulation
With the introduction of thermal fabrics in roller blinds, they offer similar heat retention properties to roman blinds and will reduce heat loss through your windows.