Once you have selected the best type of window treatment for your home, the next decision to be made is to choose the colour of fabric/wood of your new blinds or shades. Should you choose a contrasting colour for your window blinds or keep it neutral?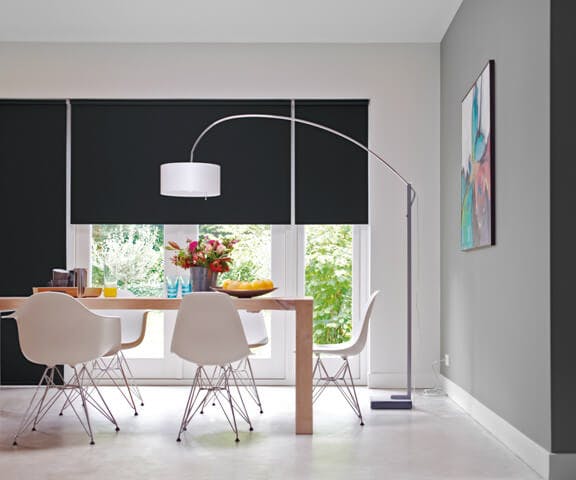 neutral blinds
By choosing blinds that blend with your room,  (i.e. a lower-contrast look) your blinds will complement and work with your existing decor. This is a safe option that creates predictable results. An example would be putting white vertical blinds in a white room. This is a popular approach because it is neutral and allows the expression of the interior to be accomplished by a combination of portable features (cushions, vases, pictures, etc) to establish mood and colour. If you want a long-term, classic blind that will neither become dated nor offend a potential buyer, choose a neutral colour closest to the colour of the window trim. You can never go wrong with that approach. Your blind should rarely (I am just barely avoiding the word "never") be the determining factor in your room's palette!!
contrasting blinds
Contrasting blinds can come in varying degrees of contrast. You could choose black block-out roller blinds for a white room or soft grey sunscreen blinds, depending on the level of statement you wish to make. If you plan to never change the colour scheme of your room, and if you are OK with the blinds being more visually prominent than the window, then by all means, pick a contrasting colour. If you would rather work with a contrast to the window reveal, then look to the soft furnishings in the room for inspiration.
If you plan to install wood blinds, take a look at the window reveal or architrave around the windows. One option is to match the trim around the windows with either our natural honey-coloured wood venetian blinds or use fresh white. This makes the wood blinds almost become a part of the architecture in the room. Another option is to choose a contrasting wood colour in a white window to add more dimension to the window. If you have an accent wood finish in your room be it flooring or furniture then natural wood blinds would tie in really well with your decor theme.
components
Also to be considered are the additional components on the roller blinds being the bottom rail and chain. Look to the light fittings, joinery and door hardware in your room. You can either choose to go with a colour close to your joinery hue (which can contrast with blind fabric) or go for a component colour that is similar to the fabric that you have chosen, thus making it less of a feature on your blinds.
Need more assistance? Request an in-home consultation now!