Regardless of whether you are selecting window blinds for a single window or for the entire home, mounting them inside or outside the window frame can make a huge difference to the look of a room.
If you use an inside fit blind then it will emphasise the architectural element of the window. Inside mounted blinds and shades will give you the cleanest look. That is because they fit inside the window frame, and can be mounted as deep or as shallow as you like. They save on space and look streamlined and sleek.  Alternatively, outside fits are particularly useful in disguising window frames of unequal size and providing a unifying design element to balance them. Outside fit can also create the impression that the window is larger than it is. If you hang blinds from the ceiling to the floor then that creates a strong, textural design statement. An outside fit may also be necessary if your window frame is not deep enough.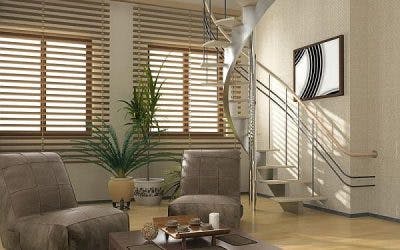 Inside fit is the most common option chosen as it provides a clean look that is more aesthetically appealing to an outside fit.  It does, however, allow some light to get past the outside edges of the blind.  If desired this can be minimised by setting the blind further back into the window frame.
Before deciding on an inside fit or outside fit, check out our ranges of roller blinds, vertical blinds and venetian blinds and visit our how to measure your window for blinds guide.