Kiwi-owned and operated: trust Mr Blinds for quality Venetian blinds NZ!
Welcome to mr blinds, the premier supplier of high-quality Venetian blinds in New Zealand. With our extensive range of custom-made Venetian blinds, you can transform any room in your home or office with stylish charm and enjoy full control over light, privacy, and ventilation. You can have peace of mind knowing you're receiving the best value for your money due to our budget-friendly rates and outstanding customer service.
timber venetian blinds
At Mr Blinds, we offer custom-made wooden Venetian blinds in NZ that are timeless, stylish, and functional. These window dressings are well-suited to a wide range of interior styles and can add warmth and richness to any room. Our wooden Venetian blinds are manufactured in Auckland with high-quality and sustainable basswood, and we have designed a contemporary flat facia and bottom rail to give them a classy look.
Our wooden options offer superior control of light and privacy, and they are available in two natural colours - honey and white. However, please note that the colours shown on your monitor may differ from the actual slat colour. We recommend taking advantage of our free sample service to ensure that your blinds match your desired colour.
Our wooden blind range is custom-made so they can fit your windows, while we also offer delivery throughout NZ for our blinds range. If you are situated in Auckland, Napier, Hamilton, Christchurch, or Dunedin, we're happy to deliver an accurate measure, quote, and installation. However, our blinds are straightforward to install, and we provide instructions for those who prefer to do it themselves.
Wooden blind selection is not only window dressing, but also a feature of a room. They are practical, allowing you to control the amount of light and airflow into the room by adjusting the slats. Fully closed, they provide maximum privacy and prevent light from entering. You can also partially open them at any angle to allow more light and air to flow.
Suppose you're installing them in a room with high moisture levels, such as a bathroom or kitchen. In that case, we recommend installing synthetic wood Venetian blinds instead. Our wooden products are a fantastic choice for adding warmth, sophistication, and style to your home.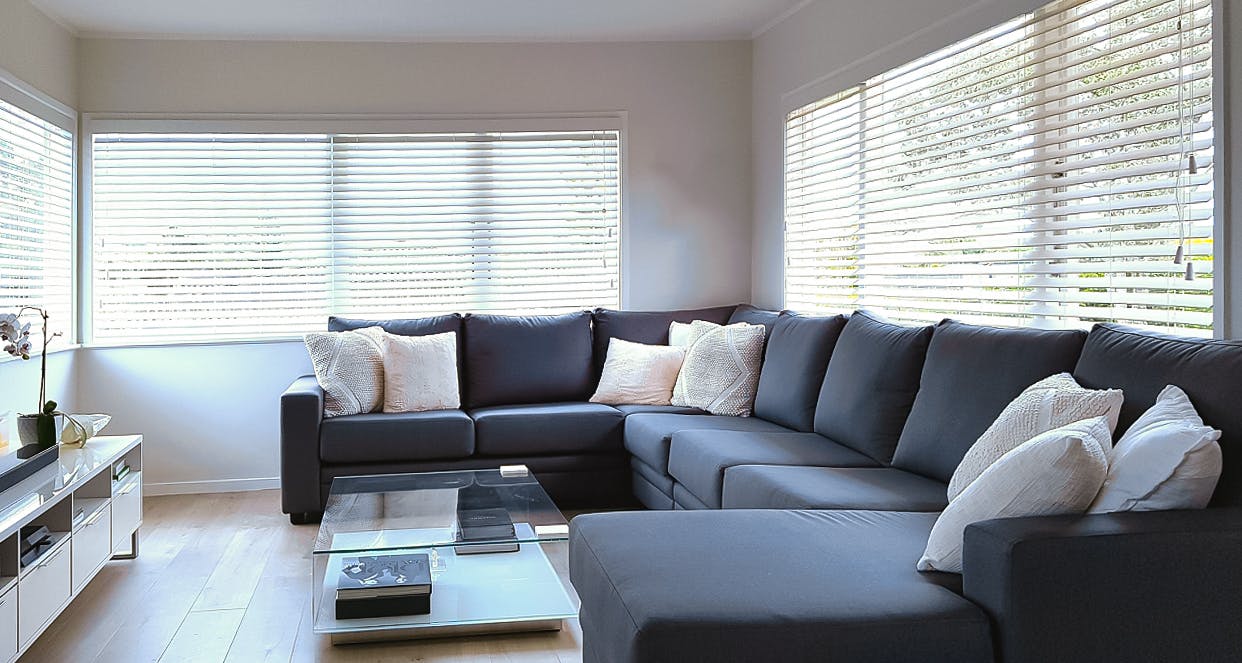 crafted in New Zealand, offering the utmost privacy, optimal airflow, and complete light control
synthetic wood venetian blinds
If you want an alternative to timber Venetian blinds, our Synthetic Wood variation are an excellent option, manufactured from a synthetic polymer that has the look of painted wood but is more thermally stable and resistant to high moisture environments.
Sometimes known as faux wood or PVC blinds, they are a practical and affordable alternative to timber Venetians. Made to measure, these blinds are ideal for New Zealand conditions and particularly suitable for areas with high moisture, such as bathrooms, laundries, and kitchens. They are resistant to UV damage, moisture, mildew, warping, cracking, peeling, and discolouration.
We offer a 50mm-wide slat white or sand synthetic wood blind that can be used in conjunction with our 50mm wooden slat Venetians, allowing you to mix and match throughout your house and achieve the same great look while adjusting for the conditions.
aluminium venetian blinds
Aluminium Venetian window blinds are a stylish and modern addition to any home or office. An aluminium window blind from our selection will not only be affordable, but also durable, strong, and easy to clean, making them a popular choice among homeowners and commercial property owners. Slim line (25mm blade) or 50mm Venetians from mr blinds offer a contemporary and practical design, perfect for controlling light and privacy in any room.
In addition to their modern and sleek appearance, these aluminium Venetian window blinds are also available in a variety of colours to match your existing décor. The aluminium material used in these blinds is lightweight, which makes installation and operation a breeze. They are resistant to warping, fading, and moisture, ensuring they maintain their appearance and functionality for years to come.
Venetian blinds provide excellent light control and privacy, with the ability to adjust the angle of the slats to let in as much or as little light as you desire. When fully closed, the slats block out all light and offer complete privacy. To ensure you get the exact blind colour you want, we offer a free sample service to help you choose the perfect aluminium Venetian blinds for your space. 
Blinds Aluminium Venetian are a practical and stylish choice for any home or office.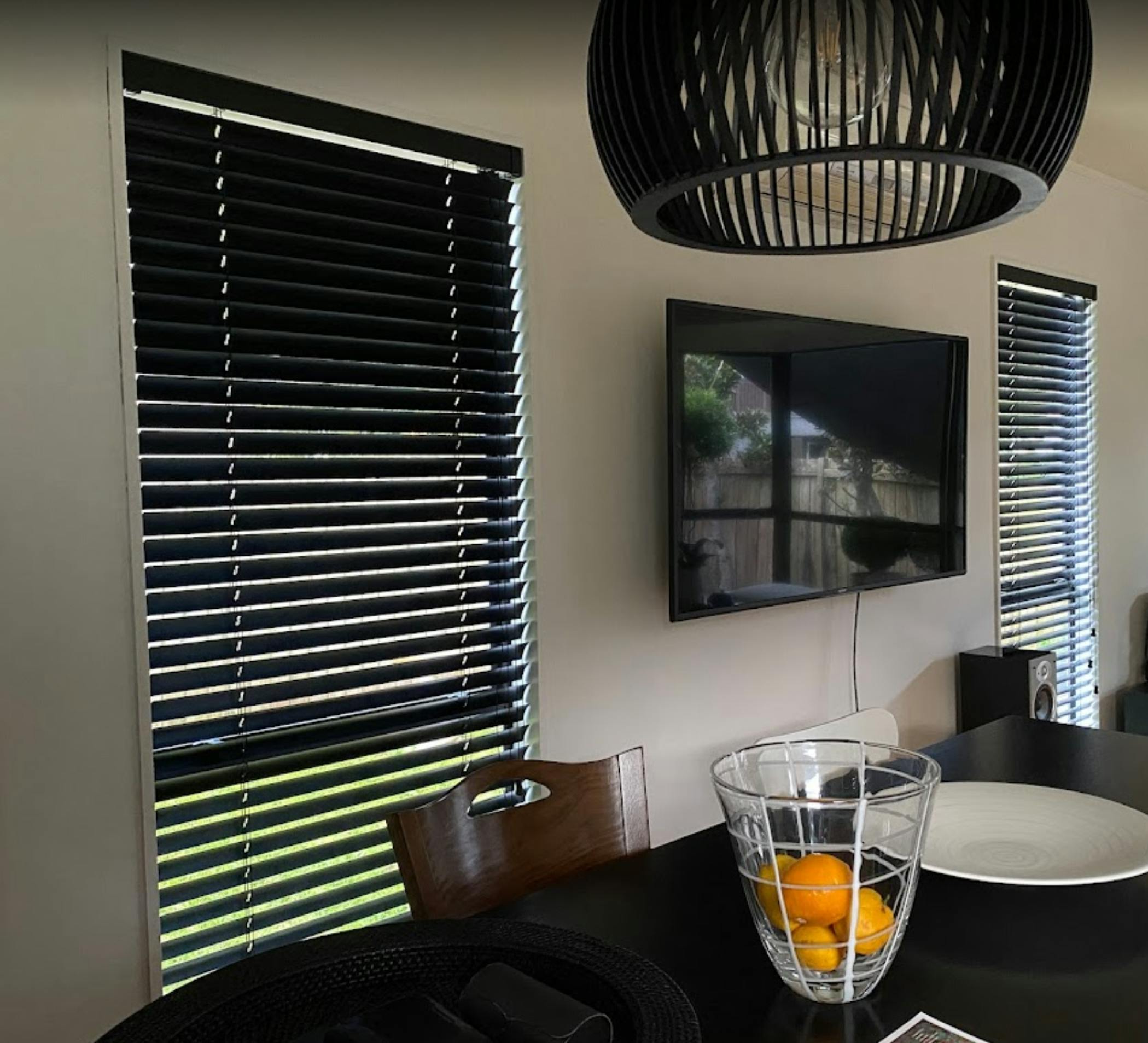 shipping our blinds range nationwide
At mr blinds, we take pride in being 100% Kiwi owned and operated. We are based in Auckland, and offer our services nationwide. Whether you're in the North or South Island, we can ship made-to-measure blind materials directly to your doorstep.
We stand behind the quality of our products, which is why we offer a five-year warranty on fabrics and a three-year warranty on parts and workmanship. You can buy with confidence, knowing that if anything goes wrong with your blinds, we're ready to help.
we're here to help
We understand that not everyone is a DIY expert, which is why we offer easy installation instructions with all our blinds. If you need further assistance, our team is always available to help you in measuring or fitting your blinds.
Our free sample service allows you to experience the quality of our blinds before purchase. We've got all sorts of blind options, from versatile dual roller blinds to budget-friendly vertical blinds. And guess what? We'll send you colour samples for free, no matter where you are in the country!
great value materials
At mr blinds, we believe in providing our customers with the best value for money. That's why we offer a best price guarantee; if you find a more affordable price for a product, we'll beat it. You'll receive quality custom blinds made specifically to your requirements for the best price.
Don't wait any longer to transform your home with a beautiful new blind. Order online or request a free measure and quote today. Save up to 50% off retail by buying made-to-measure direct from Mr Blinds. Whether you're looking for timber, synthetic wood, or aluminium Venetian blinds, we have an exceptional range of options.
easy installation
At Mr Blinds, we make it easy to order and install your Venetian blinds. With our five-year warranty, easy installation, free sample service, and best price guarantee, you can view the products in your space and buy with confidence. Order today and transform your home with the elegance and sophistication only they can provide.
Whether you need a single Venetian blind for your bedroom or a full set for your office, we have the expertise, experience, and resources to deliver the best solution. With our easy installation and free sample service, you can enjoy a hassle-free and convenient shopping experience. And with our best price guarantee, you can be sure you're getting the best deal on the market.
mr blinds
So why wait? Shop for your Venetian blinds today, or contact us for a free measure and quote. With our unbeatable prices, exceptional quality, and outstanding customer service, you can trust mrbBlinds to deliver the perfect Venetian blinds for your home or office.