Do you need to save space in your home?  In small space's it's a good idea to avoid billowing curtains and instead, use streamlined window treatments such as made to measure roller blinds.  While billowing fabric can be rich and luxurious, it can take up a lot of visual space, overwhelming the room and breaking up the wall colour making it look smaller.  If you want your small space to look larger keep windows simple.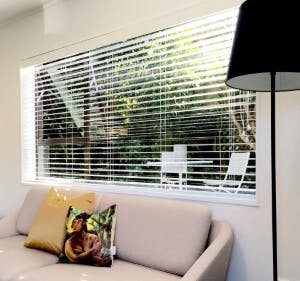 By taking down the big bulk of curtains your room instantly looks bigger brighter and looks less cluttered.
Windows are an extension of the walls and cover a large decorating area of the room.  Keep this in mind when decorating a small room.
How do I maximise the space to make the room look larger? Here are some tips to save space with your window treatments.
– Make the most of your small spaces by using light, airy colour schemes
– Keep all the window treatments in the room the same style
– The colour of the window treatments should closely match that of the walls blending harmoniously.
– Go for streamlined window treatments like roller and venetian blinds or affordable vertical blinds.