Do you need to protect your furniture from fading and sun damage? While everyone enjoys having natural light fill their home, fading, discolouration and fabric damage are all unwelcome downsides of sunlight. All fabrics and materials are affected by both direct and indirect sunlight, and even the most colour-fast materials will fade over time.  It is common knowledge that ultraviolet rays, commonly referred to as UV rays, can cause damage to the eyes and skin.  These same rays can also cause damage to many surfaces in your home.  When the sun shines through an unprotected home window, the UV rays are strong enough to fade your carpeting, furniture, hardwood floors, wallpaper, and many other surfaces.  UV rays can also cause the deterioration of fine art, photographs, and other decorating accessories.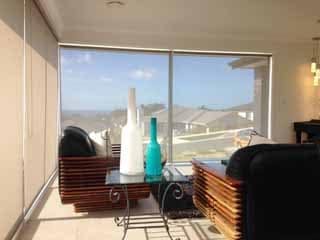 Kiwi's love big, open windows, and bright sunny spaces but the suns exposure and heat damage to your furniture is detrimental and usually irreversible.  So think of our sunscreen blinds as a stylish insurance policy for the beautiful decorative items in your home. Mr blinds sunscreen roller blind fabric provides up to 90% protection against the sun's uv rays minimising the potential damage inflicted on your expensive furniture and floor coverings.
Mr blinds sunscreen fabrics are made to withstand NZ's harsh conditions. All the raw materials (polyester fibre, UV stabiliser, dying materials and PVC) used to make our sunscreen roller blind fabrics are sourced from top suppliers in Europe and the USA. As a result, our sun filter fabrics come with a 10-year warranty.
Our sun filter fabric also significantly reduces glare and solar heat entering your room.  Hence they are a very practical choice for use in north facing rooms, as well as lounges, offices and home studies as they reduce reflection on TV and computer screens.
Need more assistance? Request an in-home consultation now!