what type do you want?
There are several different types of blinds, so you can find a set that's ideal for your space. Understanding the intricacies of each of these types can help you determine which is best for your lifestyle and your space. 
In general, there are three main types that you will be looking at. These three are:
Roller. This type is perhaps the most common because it's highly versatile. Furthermore, because their main body is mostly made of fabric, you can easily find a set with a pattern or colour that goes with the rest of your space's decor. 
The roller variety is simple yet effective. It's also very easy to use, so you can adjust its position in mere seconds. This type also has several specialised versions that each offer unique traits.
You can choose standard roller blinds or go for blackout, sunscreen, thermal, dual or even motorised. Each one of these special types is designed to offer you extra properties that can make your room more comfortable and more convenient. 
Venetian. The Venetian style is classic and is often loved for its beautiful look. It has several wonderful benefits that many people enjoy. Reasons to choose Venetian blinds Unlike the roller type, these ones are composed of many horizontal slats that can be tilted to let in or block sunlight. Their slats cause the sunlight to come into your room in a unique type of shadow, which can make a room more visually pleasing while still giving you a good amount of privacy.
These blinds are often made of wood but they can also be made of synthetic materials or aluminium.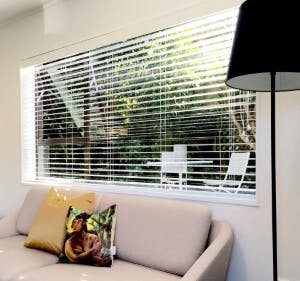 Vertical. The vertical style is similar to the Venetian one in that it is made of slats, but they are positioned vertically rather than horizontally. These beautiful products can make a room feel more modern and are a cost effective option often used for larger windows. 
other factors to consider as you shop
Once you have figured out the style you'd like, you should think about the following:
The Price. Having a budget is always a good idea. - 10 things to consider when choosing blinds Have a look at how much your new blinds might cost and come up with a realistic budget that's affordable but still allows you to get something nice. 
Remember that higher-quality products will often cost more than lower-quality ones, but they will last longer and be more useful. 
The Aesthetics. Think about colours and materials. What do your ideal windows look like? If you want to coordinate your windows with your room's decor, select a colour or materials that work with the rest of the room. If you are having trouble deciding, remember that neutral shades like black, white and beige typically go with any other colour and are a very safe choice. 
The Amount. If you plan on getting multiple sets of blinds, how many will you need? Furthermore, are you going to get the same type for every window or will you get different kinds for different rooms?
The Fit. Please make sure you know how to get proper measurements for your windows to ensure that your new products fit well. If you are going to measure your windows yourself, you can find helpful guides online and follow the instructions.
We recommend taking your measurements two or three times to ensure that your measurements are as accurate as possible. 
The Installation Process. Once your order is placed and your delivery arrives, how will it be installed? If you measure your windows yourself, then you can follow the instructions to install them yourself. Or you can also request an in-home consultation to have your windows measured and then have your blinds professionally installed. 
visit our store for top tier, perfectly-fitted products!
Visit mr blinds for some of the best blinds in New Zealand! We proudly help our customers improve their homes and offices with our high-quality products. 
We are happy to help you find, measure for and install your wonderful new products. Please call 09 274 9313 to reach our friendly team! 
Improve any residential or commercial space with mr blinds!