Properly installed venetian blinds make a great addition to any home or office. But how do they work? The basic mechanics of a venetian blind are simple. Each set of blinds contains 3 key mechanisms: the blind slats, the tilt mechanism and the cord lock, which make it possible for you to operate your venetian blinds. Knowing how each venetian blind mechanism works will make it easier to maintain your blinds over time.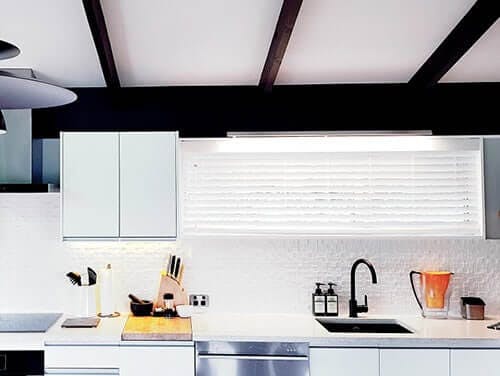 venetian blind slats
Venetian blinds contain moveable slats that can be opened inwards and outwards, using
the tilting wand or chord. Venetian blind slats come in a range of materials to suit any space, including aluminium, wood and plastic.
The moveable slats allow you to control how much light you let in the room. You can leave the blind slats open at an angle to let the light in, while still maintaining your privacy. For complete darkness at nighttime, you can leave the slats closed.
The slats can also be raised or lowered completely by pulling the cord down. When you raise the slats, the cord lock mechanism will hold it safely into place.
the venetian blind tilt mechanism
The venetian blind tilt mechanism is used to operate the blind slats. The tilt mechanism is connected to a tilt wand or cord through threading, which you can use to angle the slats. You can twist the tilt wand clockwise or anti-clockwise or pull one end of a two way cord to open and close the slats.
The venetian blind tilt mechanism not only gives you control over lighting and privacy, but temperature as well. For example, if you tilt the slats in a downward position, it will help keep the room cool. This is because the downward overlap will let the cool air in through the window. Similarly, if you tilt the slats in an upwards position, you will keep the room warm.
the cord lock mechanism
The cord lock mechanism allows you to raise and lower your venetian blinds. When you pull the cord of your venetian blinds away from the centre of the window, the slats will rise. The blind slats will lock into place when you release the cord. This locking system lets you keep the slats stacked at whatever height you want to raise them. You can lower the blinds back down again by pulling the cord towards the centre of the blinds.
If you handle them correctly, your venetian blinds will stay in excellent condition for years to come. Now, equipped with knowledge on how to operate your venetian blinds and how they work, it's time to find the perfect blinds for your home! shop at Mr Blinds today for high-quality wooden venetian blinds, synthetic wood venetian blinds, and aluminium venetians.