Cords and chains if not secured appropriately can be a severe risk to toddlers. At mr blinds we take the matter of child safety very seriously and believe it is essential that our window blinds are safe for your family.  Please check if a blind or cord can be wrapped around your hand then it is unsafe.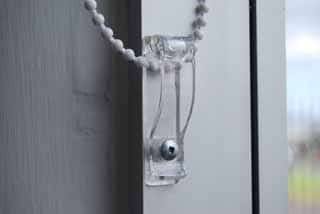 With this in mind,  mr blinds NZ offers  FREE SAFETY CHAIN TENSIONERS when requested at the time of quotation/payment.  When installed properly the cord/chain tensioner holds the looped cord or chain taut to reduce the risk of a child becoming entangled.
What you can do if you already have blinds in your home?
If you already have blinds fitted in your home there are some practical, simple precautions to help reduce the risk to babies and small children, including:
1.    make sure all cords and chains are always secured and out of reach
2.    tie up the cords or use one of the many cleats, tensioners that are available
3.    do not place your child's cot, bed, highchair or playpen near to a window blind
Need more assistance? Request an in home consultation now!