how a simple change of blinds can transform a room's mood
When you initially think about it, you might not think that blinds are that big of a deal. All Venetian blinds do is shade you from light, right? While light control is a massive benefit of installing blinds, there are also many other surprising benefits that everyone should know about. 
These excellent advantages can genuinely change how a room feels and influence your mood whenever you enter. They're an amazing way to create lovely spaces for you to relax or work in. 
The most notable ways that blinds can change how your home feels are:
They Can Alter Your Room's Ambiance, Depending On How You Set Them. These types of blinds typically have three settings that people set them to; fully open, fully closed or pulled down with the slats tilted to let in some light. All three of these settings can offer a different mood, and each setting is easy to achieve. Transform the atmosphere in a room with Venetian blinds
For example, having your Venetian blinds fully up can make your space feel more open. You'll have lots of light in your room, and you'll be able to see clearly outside your window. This setting is best for when you want to greet the world and enjoy the warm sunlight. 
Next, you could fully pull your blinds down and shut out the light by tilting the blinds' slats. Doing so will offer you full privacy and protection from daylight. No one will be able to peer into your room, and you can enjoy being in your own serene world as you relax or pursue your personal passions. 
For the best of both worlds, pull your blinds down but tilt the slats so they allow in some light. You can easily set the slats to a position that allows a little or a lot of light, depending on what you like. Letting in some daylight while enjoying the atmospheric shadows cast by your Venetian blinds can truly give your room a cosy, relaxed feeling. With this setting, you'll feel warm and pleasant while still enjoying a good level of privacy and soothing natural light.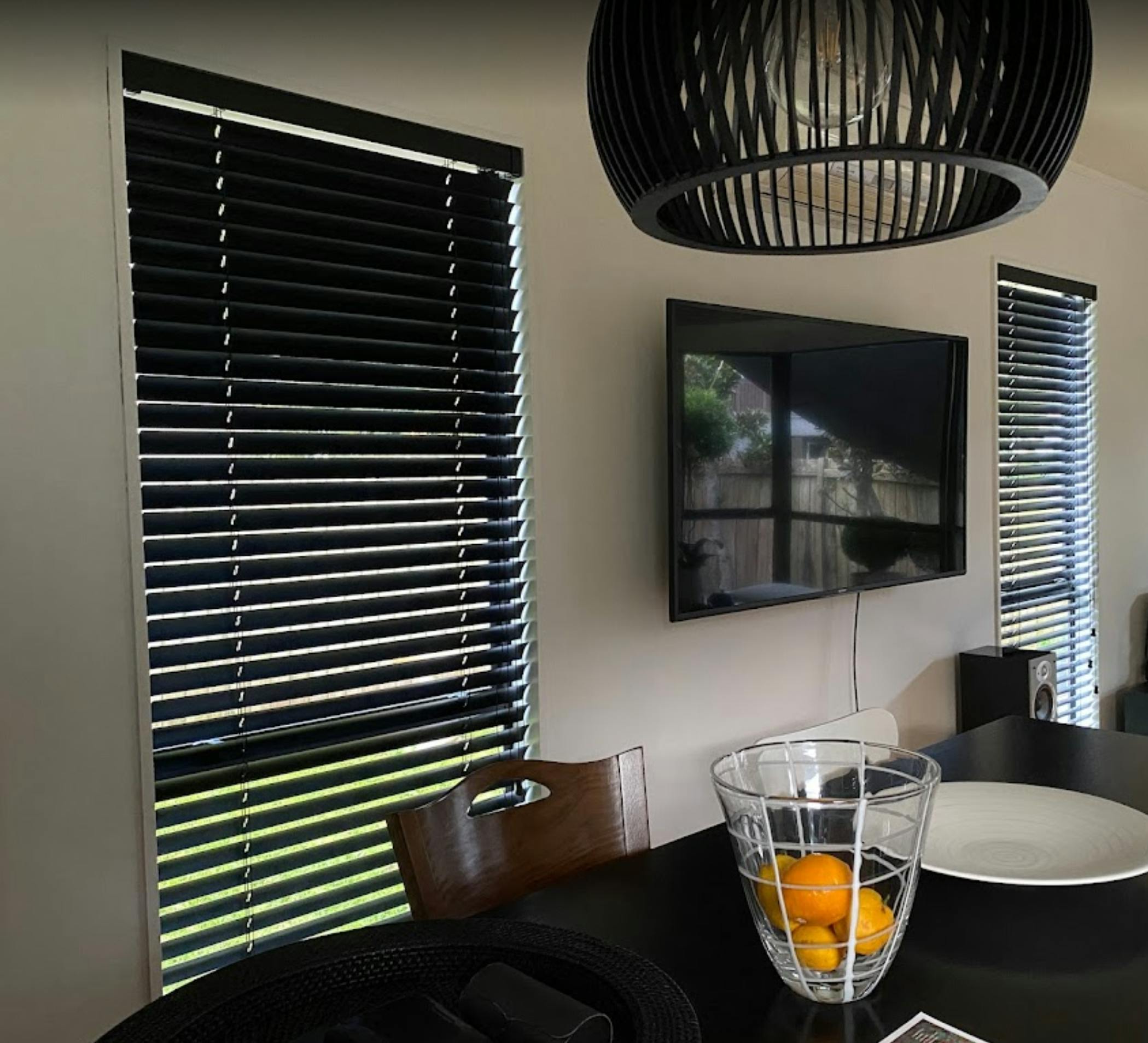 They Are Available In A Nice Range Of Colours And Materials That Can Fit What Mood You Are Going For. If you care about sticking to a decor theme, you'll be happy to know that blinds come in quite a few options when it comes to colours and materials. You will most likely have no trouble finding a set of blinds that go well with your room's decor. 
The three main materials you have to choose from are wood, synthetic wood and aluminium. Wooden or timber blinds are perfect if you want a classic, traditional look or if you enjoy wood's natural beauty. On the other hand, aluminium blinds are ideal if you appreciate modern styles and if you want a cost-effective option. These aluminium blinds come in shades from white to black, so they're perfect for basically any kind of room.
They Are Spatially Efficient. A big advantage that blinds have over curtains is that they are far more spatially efficient. While curtains can billow and appear far too large, Venetian blinds will neatly stay where they're supposed to be while they offer shade or let in light. This space-saving quality is perfect for smaller rooms if you want to make the room appear bigger. How will blinds transform the house's look
Efficient fixtures that don't take up too much space, like blinds, are the best option for people who enjoy neat and clean spaces. 
where to go to find beautiful blinds that will enhance your New Zealand home
At mr blinds, we are thrilled to offer you a fine selection of many different types of blinds. We always use the best designs and materials to ensure that our clients are happy with our services and products. If you want to completely transform how your home feels, why not check out our wonderful selection of Venetian blinds?
We are happy to offer both in-home consultations and self-measure and self-install options to make sure that your new blinds perfectly fit your home. For more helpful information, you can call us at 09 274 9313 
Alter your home's mood and make it a better, more comfortable place with blinds from us at Mr Blinds.